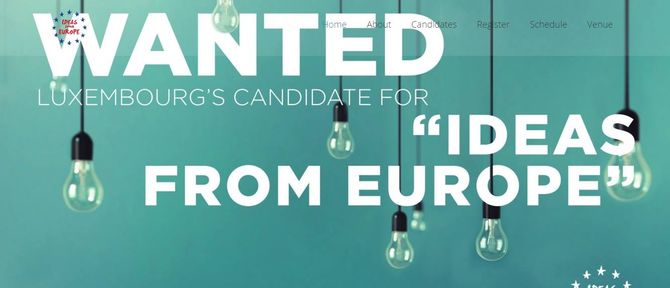 This evening I brought 2030, WHEN i GROW UP to a higher level. 

2030, WHEN i GROW UP was selected among the 10 candidates to compete at national level for the spotlight on Europe's most inspiring visionary ideas.
The pitching competition of Ideas From Europe  took place at Technoport/Luxembourg. Many leaders and decision-makers were there. To tell stories to inspire!
Among the audience were the Ministry of the Economy and... people. People in "overcoats and galoshes" and people in t-shirts and shorts... Sometimes the same people, sometimes different ones... And sometimes the different ones became the same, and the same ones disappeared. Well... people like you & me. And a lot of kids within them.
My pitching was about THE USE OF CINEMA IN RAISING FULLY FULFILLED ADULTS. 
I talked about my dream of improving lives through the audio-visual tool and using cinema for medical and educational purposes. Even for raising fully fulfilled adults. And to do that, we need to create a personalised edutational USER EXPERIENCE already in childhood. We need to make it mem·o·ra·ble. We need to make it a·ma·zing.
How is this possible ?

Children should create & visualise their own media. Their own hero's journey. Their own life patterns. And NOT the other way around. So they can develop themselves in accordance to their true self, rather than buying into what the media & society sells them.

By the way, we happen to create these kind of experiences, to foster kids' personal development through participatory storytelling and film-making. Find out more.

Be inspired,

PS: Thanks Olinka Conevalic​ for having encouraged me to do this pitch and continue as a speaker.